How to read eyeglasses size?
Standard numbers of eyeglass frame size
Typically there will be three standard numbers imprinted on one of the temples or the bridge, indicating respectively the sizes of three frame parts. A typical example is 50-21-142. All sizes are marked in millimeter.
a. Lens size: The first number 50 represents the lens size, which is also called eye size or lens width. The lens width is the most exact name of this size, describing precisely the distance between the vertical sides of a rectangle containing the lens shape. It is important to differentiate it from lens height. A large lens for a big guy usually has big sizes at both dimensions. Lens size typically ranges from 44 to 52. In rare cases, big and tall guys need to take a frame with a size of 58.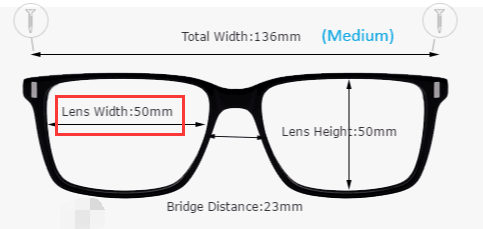 b. Bridge length: The second number 21 represents the bridge size. Other sayings include bridge length and bridge width. In detail, it is the minimum horizontal distance between the nasal surfaces of the rims. This size varies only slightly because people's noses will hardly differ significantly. When the frame is sitting too high on the face, it is necessary to increase this bridge size. In opposite, a shorter bridge is needed when the frame sits too low on the face.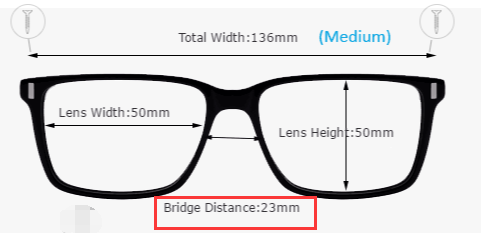 c. Arm length: The third number 142 describes the length of an arm or temple. This is the whole length from the screw to its ear tip, consisting the length of the bend and the length of the drop. Most people can get fit into a size of 140, but a big guy may require 155 and even more.